IAG 750 EJ25 Subaru Closed Deck Short Block For WRX, STI, LGT, FXT
SKU: IAG-ENG-S750
IAG Stage 2.5 Subaru EJ25 Closed Deck Short Block


The IAG Stage 2.5 Short Block starts with brand new Subaru 2.5L engine case halves. IAG machines the case halves assembled together in our Haas VF-4SS CNC mill to accept the IAG CLOSED Deck Inserts that transform the block into a solid deck. The unique inserts feature small passages that allow needed coolant flow to the deck surface. Next, the short block is Deck Plate bored and honed to 99.75mm in our in-house Sunnen SV-30 the most advanced automotive cylinder hone available. IAG's in-house honing process is able to set custom piston to wall clearances to best fit your needs. The modified case halves are then assembled using a new 2017+ Subaru 2.5L nitride treated STI crankshaft that is matched to ACL or King race main bearings. IAG-Spec Tuff H-Beam connecting rods and ARP rod bolts are utilized along with ACL or King race rod bearings. The case halves are sealed with new OEM main/case bolts and sealant (upgrading to ARP mains requires line honing). Finally, IAG-Spec 99.75mm JE FSR 2618 Forged Pistons with .210" 9310 Steel Wrist Pins are added to finish the Stage 2.5 short block.

IAG 750 Closed Deck Includes:
Case Halves -Converted to Closed Deck using brand new Subaru OEM case halves, bored and honed to 99.75mm.
Pistons -IAG-Spec JE FSR 99.75mm 2618 Forged Pistons, Ring Set, .210" 9310 Steel Wrist Pins, Clips, (Perfect Skirt Coating and Offset Wrist Pins)
Connecting Rods -IAG-Spec Tuff H-Beam / ARP2000 Rod Bolts.
Rod / Main Bearings -ACL or King Race bearings.
Crankshaft -Standard New Subaru Nitride Treated 2017+ STI Crankshaft.
Case / Main Bolts -Standard FHI Subaru case bolts.

Additional Options Available:
Oil Pump

 

- IAG Stage 2 CNC Ported 11mm EJ Oil Pump or Subaru JDM 12mm High Volume Oil Pump
IAG Oil Pickup

 

- Upgraded oil pickup featuring heavy gauge steel tubing, 2 point bracket & mesh filter
IAG Oil Baffle

 

- Upgraded oil control baffle and windage tray
IAG Oil Pickup & Baffle Set

 

- Upgraded oil pickup, oil control baffle, and windage tray
Hardware / Seal Option -(Wrist pin plugs, washers, separator cover, bolts, etc. In case you don't want to transfer from the original engine).

Compression Ratio:
8.5:1 on D Cylinder Heads (EJ255)
8.2:1 on B, V and W EJ257 Heads with standard thickness gasket.


Power: The IAG 750 Short Block has a power output rating of 700BHP.

*All IAG short blocks are balanced and blueprinted.



Oil Pickup / Oil Control Baffle / Windage Tray Options5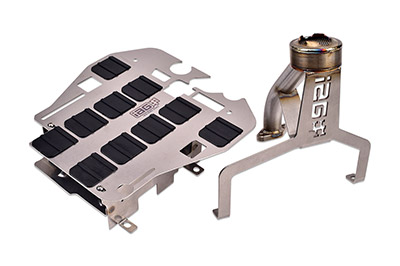 The IAG Performance Subaru WRX / STI oil pickup is designed to replace the OEM EJ25 oil pickup, which is prone to failure. It's a well-known fact that the OEM oil pickups often crack and fail which, in most cases, destroys your engine from lack of oil pressure. To avoid the cracking failures seen in the OEM oil pickup tubes, the oil pickup is manufactured from heavy-gauge steel tubing that is 2x thicker than OEM. Additionally, it features a flange machined from 3/8" stainless steel to mate with the block, sealed with a Viton O-ring. The integrated heavy-duty mounting bracket uses two mounting points rather than the OEM single mounting point. Furthermore, the oil pickup features a formed bottom with an OEM style mesh screen for proper filtration. The TIG-welded oil pickup's increased material thickness, matched with the two-point heavy-duty mounting bracket, helps ensure that it does not fatigue and fail over time like an OEM unit.

The IAG Oil Control Baffle and Windage Tray System is designed to limit potential blow-by and prevent oil starvation in your Subaru's WRX / STI EJ engine during high rpm and high g-force driving. Through the use of Viton one-way flapper valves on our baffle and louvers in our windage tray, oil is prevented from reentering the upper crankcase area and is directed down into the oil pan to ensure plentiful supply to the oil pickup. IAG's integrated two-piece Oil Control Baffle and Windage Tray System is designed to work with our own oil pickup, as well as other oil pickups*. The baffle fits neatly in the engine crankcase area, allowing normal installation of the OEM oil pan and popular aftermarket pans*.

Oil Pickup & Baffle Install Notes
EJ20 Subaru WRX engines require EJ25 oil pans for fitment
IAG oil pickup spacer (Part# IAG-ENG-2081SP) is required when using IAG oil pickup with Killer B Oil Pan.
*Does not work with Moroso oil pans or pickups
Hardware / Seal Option: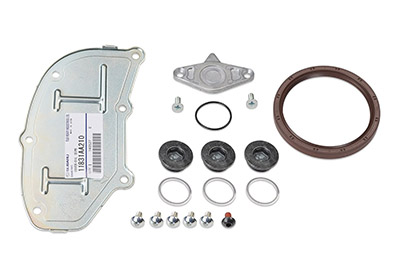 Not planning on reusing your original short block service plugs and covers? IAG offers a simple comprehensive cover and seal kit that includes (1) Rear main seal, (3) OEM wrist pin plugs, (3) OEM wrist pin plug washers, (1) OEM separator cover, (6) OEM separator cover bolts, (1) OEM wrist pin service cover, (1) OEM wrist pin service cover O-ring and (2) OEM wrist pin service cover screws. *If you are reusing your original wrist pin service plugs and covers always replace the (3) OEM wrist pin plug washers and (1) wrist pin service cover O-ring before installing a short block to avoid potential leaks. *Never reuse a rear main seal on a new short block.



Please review the PDF document below regarding installation, break-in procedures and warranty information.