IAG PERFORMANCE V3 COMPETITION SERIES AIR-OIL SEPERATOR - 08-14 WRX, 08-20 STI, 05-09 LGT
SKU: IAG-ENG-7281NY
Competition Series AOS are "Competition Only" components for installation exclusively on "Competition" vehicles or "Racing" vehicles not subject to pollution control. IAG recommends the Competition Series AOS for Competition vehicles with greater than 600 WHP output.

The IAG Performance V3 Competition Series Air / Oil separator (AOS) is an excellent investment to keep your Subaru Competition Vehicle running well. The Competition Series AOS keeps oil out of the intake system of your engine by venting crankcase vapors to the atmosphere. The Competition Series AOS design is based on years of extensive testing on racing and high horsepower Subaru s. The large, 1-liter, cast aluminum swirl pot canister collects the oil from the PCV system and allows it to drain away before the PCV gases are vented to the atmosphere, preventing all oil from reentering the intake tract. The AOS's fully-heated cast aluminum housing, superior venting, and unique, patent pending, baffle design set it apart from the rest. The Competition Series AOS is best suited for Drag Racing, Road Racing, and high horsepower Competition applications looking for superior crankcase ventilation. The Competition Series AOS may require additional tuning calibration. Please consult a tuner for more information.

Keeping Oil Out
Keeping oil out of the engine intake tract is extremely important towards preventing premature mechanical failure and maintaining performance. Oil in the intake tract of the engine has several detrimental effects. First, the oil coats the internal portions of the intake, intercooler, and piping. This oil may cause premature failure of rubber or silicone hoses, which leads to failed connections.

Once the oil reaches the intake tract it will directly enter the intake manifold and then the combustion chamber of the engine. Oil inside of the combustion chamber can cause detonation and preignition, high emissions, smoke, loss of power, decreased gas mileage, and even catastrophic engine failure leading to expensive repair bills.

Venting
The Competition Series vents the PCV gases to the atmosphere via a large 1" diameter vent hose. All oil in the CCV systems is prevented from entering the intake tract. IAG's V3 AOS also eliminates the OEM PCV valve which is known to fail in high horsepower applications.

Version 2 vs Version 3 IAG AOS
The most popular Subaru AOS for Competition use is now even better! The IAG AOS body is completely redesigned using cast aluminum and features an integrated coolant passage for better heat retention. Additionally, the V3 AOS heating system is upgraded by relocating the coolant lines to the bottom of the body using new swivel fittings, heat sleeving and an integrated coolant bleeder. These heating system upgrades will allow for a cleaner installation and less condensation buildup in colder climates. The new compact body has the same 1-liter capacity as V2, but features a sleeker design and adds removable ORB fittings for greater versatility.

AOS TOP
True 360° Rotating Breather Port
Large Breather Port For Maximum Ventilation
Greater Pressure Stream Oil Separation

Notice the large breathing port? At first glance you might think this is excessive, however, our reasoning is grounded in simple physics. As air and particles of oil enter into the AOS, the largest particles of oil will collect on the inner surface of the can and drain to the bottom, but the smallest particles will remain suspended in the pressurized stream.

As the air makes its way through the multi-stage baffle system, gravity pulls oil from the air. By increasing the diameter of the breather opening on the top of the AOS, we have drastically decreased the exit velocity of the crankcase vent (CCV) stream. The slower velocity leads to greater oil separation from the pressure stream. A total of 20 mounting holes enables the breathing port a full 360° of rotation. On the top, a thick Viton o-ring seals the can. Every o-ring in our AOS is formed from Viton which offers superior temperature and chemical resistance.

AOS BODY
Compact Cast Aluminum Design
Approximate 1 Liter Holding Capacity
Integrated ORB Ports
Aluminum Body is powder coated in Red or Black Wrinkle Finish
The side of the AOS features 3 -8 ORB removable billet hose barbs

The Subaru EJ engine has 3 ports that vent crank pressure: one on each cylinder head, and another on the top of the block. Each engine vent port receives its own connection to the AOS. By giving each engine port its own entrance to the AOS IAG has allowed for more effective and faster excavation of crankcase pressure. Additionally, this reduces overall system pressure. The AOS has an approximate 1 liter of holding capacity. The larger the AOS, the more power you can safely make without having to worry about the AOS overfilling.

AOS BOTTOM
Unique Baffling Controls Crankcase Pressure
Returns Oil To The Engine
No Maintenance or Manual Draining Required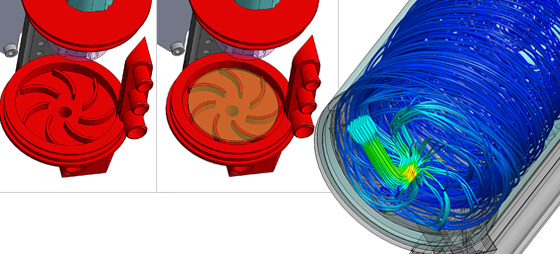 The bottom of the AOS is shaped like a snail, redirecting positive crank pressure into the same swirl pattern produced by the 3 side ports. This allows maximum oil drainage, while separating oil from the air in all the venting ports.

Why not use a catch can? Catch cans require regular maintenance and manual draining for proper operation. If the catch can is not drained often it may reintroduce oil into the intake when it overflows or create a mess in the engine bay.

The IAG AOS collects oil and actively drains the oil to the crankcase. The drain port is under the same crankcase pressure as the other ports that are on the side of the AOS. Under normal, off boost driving the weight of the collected oil will easily overcome the pressure in the drain line. However, under heavy boost (especially on higher powered engines) the crank pressure will push back up the drain with the same air/oil mixture that is seen on the side ports. The unique snail design allows the system to breathe without disturbing the swirl pattern.

AOS DRAIN PORT
The AOS drain port is able to be rotated for ease of installation, as well as pre-threaded to accept an ORB fitting if desired.


AOS FITTINGS
Includes all fitting required for installation
Includes unique billet aluminum coolant swivel fittings


AOS HOSE
The supplied coolant hose is built to SAE 30R9 standards. It will withstand coolant temperatures of +257°F.
The oil vapor hose is designed to withstand oil and fuel vapors, exceeding SAE J30R7 standards.


AOS COOLANT
Heated By Engine Coolant
Reduces Moisture & Oil Mixing


The body of the IAG V3 AOS features an integrated coolant chamber that heats the entire AOS to the same temperature of the engine. This cast aluminum can holds more heat which maximizes the evaporation of any condensation collecting inside of the can. The hotter the AOS, the less condensation will collect inside and mix with the oil.

AOS MOUNTING
Multi-point Adjustable Mounting Bracket

The center bracket allows for adjustable mounting. If your engine bay changes, you can easily change how and where you mount the AOS. The V3 AOS body features a greater number of mounting holes enabling a wider range of adjustment. A single, laser-cut, mounting bracket is included that fits nearly all applications and configurations.

A laser cut harness relocation bracket is also included. The bracket allows the engine harness connector to be moved forward for additional clearance.


AOS IN THE BOX
Ready To Install
Hardware, Lines & Fittings Included
The AOS arrives completely assembled and ready for immediate installation. However, the entire unit can be broken down for cleaning. With a single allen wrench, you can remove 2 bolts and the AOS easily separates into individual pieces.


FAQ:
Q: Why do I need an AOS?
A: In stock configuration, the un-baffled crankcase pressure is re-circulated back into the intake stream.

This can be harmful for two reasons:
Oil vapor mixed with the intake air effectively lowers the overall octane rating of your fuel. The more oil vapor that is sucked back into the engine, the more likely you are to experience engine knock (also referred to as detonation) that can destroy an engine.
Oil vapors cause oil & carbon build up over time. The intercooler, intake manifold & intake valves suffer the worst. This oil vapor can create air turbulence that leads to various running issues.


Q: What are the factors that cause oil in the crankcase vent system (CCVS)?
A: There are a variety of factors that determine how much oil will be in the CCVS. The most significant of these factors are boost pressure, piston to cylinder wall clearance and oil viscosity. Smaller factors include ambient temperature, engine temperature, piston ring condition, and valve guide condition.

Q: What's the difference between a catch can & the IAG AOS?
A: Catch cans are an air/oil separator that does not actively drain the collected oil back into the engine. Most catch cans require you to drain the contents out manually. While acceptable on some engines that produce little oil in the CCVS, the Subaru EJ engine is not this type of engine. By nature, a turbocharged boxer engine will produce significantly more oil in the CCVS than other engines of similar displacement.

Q: Which AOS is right for my vehicle?
A: The Street Series AOS maintains or improves the functionality of the original PCV system and may be installed on street driven vehicles subject to EPA emissions standards. The Street Series AOS provides optimal oil separation and venting performance for vehicles, including unregulated competition applications, up to 600 WHP and those fueled by E85 or other high-ethanol fuel blends. The Street Series AOS protects from ethanol caused oil dilution and resulting extremely frequent oil change requirements. Pulling vacuum via the Street Series recirculating design to the inlet is ideal for ethanol fueled competition vehicles, removing ethanol vapors from the crankcase and returning them to the intake system for complete combustion.

Competition Series AOS are "Competition Only" components for installation exclusively on "Competition" vehicles or "Racing" vehicles not subject to pollution control. IAG recommends the Competition Series AOS for Competition vehicles with greater than 600 WHP output. The Competition Series AOS prevents oil suspended in PCV gases from re-entering the turbo inlet but requires calibration or tune changes. Select a Street Series AOS if you prefer not to retune your Competition vehicle for this upgrade. For Competition vehicles, follow your engine builder's maintenance directions but perform oil changes before every race or practice event .

IAG is not offering any Competition only components for installation on street driven or regulated applications. Installing a Competition Series AOS on a vehicle other than a Competition vehicle used solely for competition motorsport may be violation of the federal prohibitions against "Tampering" provided in CAA§ 203(a)(3)(A), 42 U.S.C. § 7522(a)(3)(A), 40 C.F. R. § 1068.101(b)(I) and "Defeat Devices" in CAA§ 203(a)(3)(B), 42 U.S.C. § 7522(a)(3)(B), 40 C.F.R. § 1068.101(b)(2).

* The IAG AOS is not compatible with most aftermarket strut tower bars.